Unfortunately Medicare Rarely Covers The Cost Of A Shower Chair Or Other Bathroom Safety Equipment
Does Medicare Pays For Lift Chairs?
As we age, we may need to make some home modifications in order to age in place, or remain in our homes and live safely, independently, and comfortably. Examples include installing ramps, safer flooring, or handrails making your kitchen more accessible and improving lighting. And, of course, you may wish to implement safety improvements in the bathroom, such as a shower chair or grab bars.
Shower chairs can help you prevent injury if you have mobility or balance issues, giving you the support you need to keep you safer while showering. However, Medicare does not consider shower chairs to be medically necessary, which means they are typically not covered.
Read on to learn more about Medicare coverage for shower chairs and other safety devices, as well as durable medical equipment coverage.
How Will Medicare Cover Durable Medical Equipment
Original Medicares Part B covers durable medical equipment items when your Medicare-enrolled doctor or health care provider prescribes it for you to use at home. Once you have the doctors prescription, you can take it to any Medicare-enrolled supplier. Medicare pays 80 percent of its approved amount , and then you pay the 20 percent balance.
If your health condition changes and you need a different type of equipment, then you usually need a new prescription from your doctor for it to be covered.
Medicare Advantage plans are required to cover everything that Original Medicare covers. This is true for both durable medical equipment and other benefits covered by the plan. The main difference between Original Medicare and Medicare Advantage lies in how you get a durable medical equipment item covered. For example, a Medicare Advantage plan may require prior authorization in order for items to be covered. You may also need to use a doctor and a Medicare-approved supplier who is in the plans network.
Does Medicaid Cover Bath/shower Chairs And Bathroom Equipment
Medicaid programs are designed for those with extremely low incomes mainly the elderly, the disabled and low income families.
Medicaid funding is both federal and state level funding. As each state can have any number of different programs, each with its own eligibility rules, there are literally hundreds of different programs.
Medicaid will also pay for home medical equipment, and will very often cover 100% of the cost.
What qualifies as a home under Medicaid for a person to be eligible for these programs
Read Also: Does Medicare Offer Dental Plans
Can A Doctor Prescribe A Bath Or Shower Chair
If a Medicare-enrolled doctor has diagnosed you with a medical condition, for which a bath or shower chair is medically necessary, and found that you would benefit from using one, they can prescribe a bath, or shower, chair.
Medicare Part C, or Advantage Plans, are different because they are run by privately contracted companies, who provide at least the same services as Original Medicare, and can provide some extra benefits which cover more items than Original Medicare.
List Of Durable Medical Equipment Covered By Medicare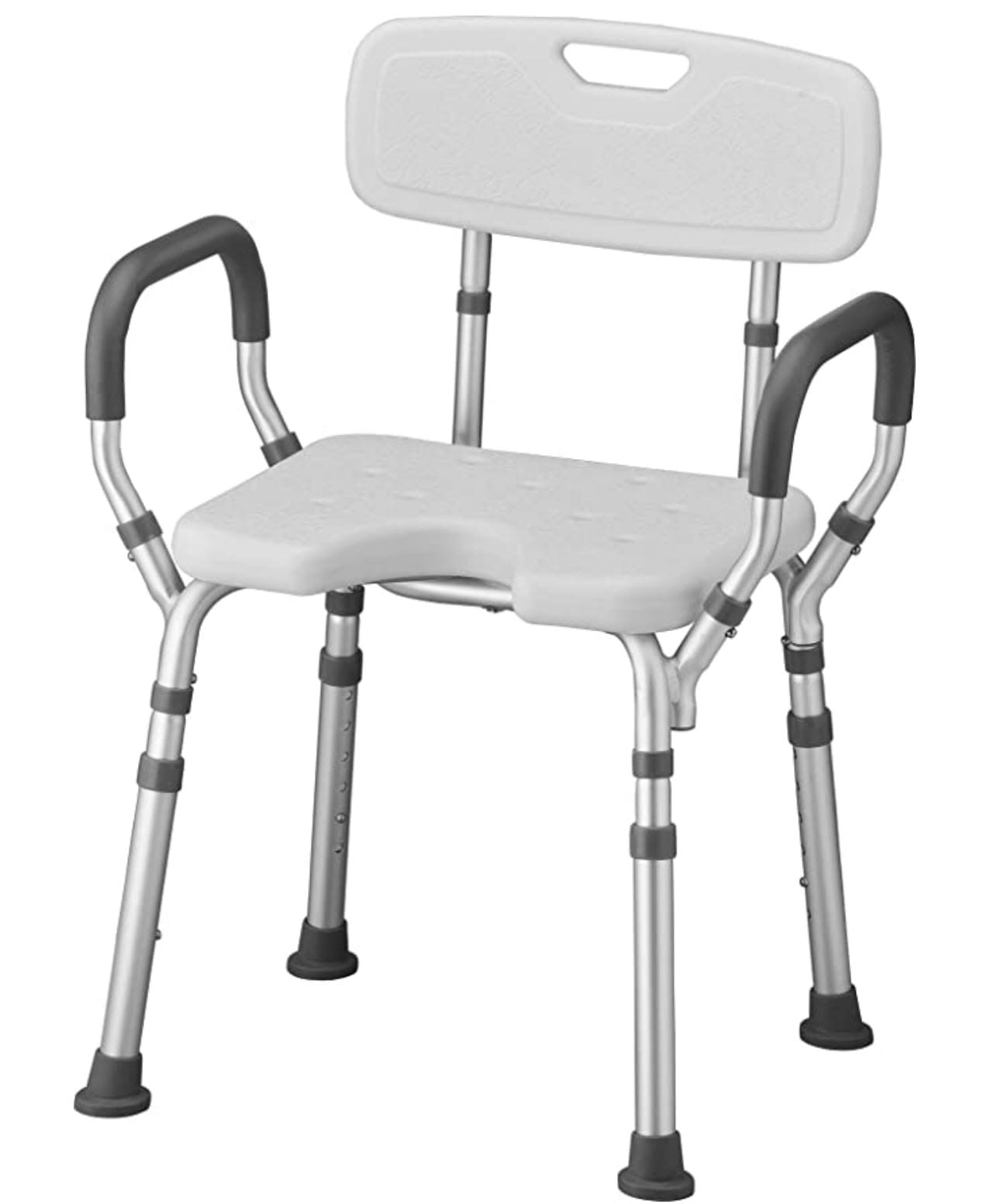 Alternating Pressure Pads and MattressesAudible/visible Signal Pacemaker MonitorPressure reducing beds, mattresses, and mattress overlays used to prevent bed soresBead BedBed Side RailsBed Trapeze covered if your loved one is confined to their bed and needs one to change positionBlood sugar monitorsBlood sugar test stripsCanes Commode chairsContinuous passive motion machinesContinuous Positive Pressure Airway Devices, Accessories and TherapyCrutchesVentilators WalkersWhirlpool Bath Equipment if your loved one is home bound and the pool is medically needed. If your loved one isnt home bound, Medicare will cover the cost of treatments in a hospital.
Read Also: Is Ed Medication Covered By Medicare
Additional Shower Chair Features
Some shower chairs may have wheels. Wheels can make it easier to move around for those with mobility issues however, they can also increase risk of injury as they are more prone to slipping. If you do have a chair with wheels, it is critical to ensure the wheels are locked while you are not moving.
There are many varieties of shower chairs depending on your specific needs. Some chairs may have a backrest, which is ideal for those who need back support while showering. Chairs may also have arm supports. These can provide grips and increased stability when sitting or standing, and many chairs with armrests have back support as well.
Other chairs have neither back nor arm supports. These chairs provide individuals with increased mobility and range of motion while in the shower. When determining the best shower chair for you, be sure to consult with your physician to ensure you select a product that fulfills your needs and helps ensure your safety.
TIP: You may also want to research Top Design Considerations for an Accessible Bathroom Remodel.
Does Medicaid Cover Bathroom Equipment
Medicaid was established to assist financially disadvantaged children and the elderly, and this sometimes entails paying for the bulk of medical-related expenditures.
Is this, however, a guarantee that your bathroom equipment will be paid by Medicaid?
Given the number of persons injured in bathroom accidents each year and the fact that certain elderly and handicapped people require the equipment for comfortable living, we are investigating the most cost-effective methods of obtaining the assistance you require.
With this in mind, well learn about every Medicaid benefit and how to use it to get your bathroom equipment and be safe in your home.
Also Check: What Is Aetna Medicare Advantage Plan
Q: Will Medicare Pay For A Shower Chair
A: Medicare Part B defines Durable Medical Equipment as devices that must be used to meet a specific medical necessity, and shower chairs are not generally covered for home use. Using a Medicare Advantage plan, which is required to provide at least the same Part A and Part B coverage as Original Medicare, might include additional benefits at little to no extra cost. Certain Medicare Advantage plans may offer over-the-counter allowances that can cover some items, like a shower chair, so review your plan benefits to see if a shower chair is covered. Also, if you use a shower chair in a facility, your insurance company may cover that cost.
Medicare Advantage Plans Help Pay For Lift Chairs
Medicare Part B pays for wheelchairs, walkers, beds etc if your doctor prescribes #medicare2022 #pdp
You have options when it comes to your Medicare coverage. Depending on where you live, you may be able to enroll in a Medicare Advantage plan.
If your lift chair would be covered by Medicare Part B, it is also covered by Medicare Advantage plans .
Medicare Advantage plans provide the same hospital and medical benefits as Original Medicare, and some plans may offer benefits that arent included with Original Medicare, such as coverage for prescription drugs, vision and dental care.
To learn more about Medicare Advantage plans and to find plans in your area, call a licensed insurance agent today or compare plans online.
Explore Medicare Advantage plan benefits in your area
Or call to speak with a licensed insurance agent. We accept calls 24/7!
About the author
Christian Worstell is a licensed insurance agent and a Senior Staff Writer for MedicareAdvantage.com. He is passionate about helping people navigate the complexities of Medicare and understand their coverage options.
His work has been featured in outlets such as Vox, MSN, and The Washington Post, and he is a frequent contributor to health care and finance blogs.
Christian is a graduate of Shippensburg University with a bachelors degree in journalism. He currently lives in Raleigh, NC.
Where youve seen coverage of Christians research and reports:
Dont Miss: Does Medicare Cover Nursing Care At Home
You May Like: Who Pays For Assisted Living Facilities Does Medicare
Types Of Shower Chairs And Uses
Shower chairs may also be called bath chairs, shower seats, shower stools, or shower benches, depending on where you buy them from. However, they all serve essentially the same purpose providing someone with support while in the bath or shower to help prevent falls and injury.
Shower chairs are typically made of plastic or coated metal and designed to be water-safe while minimizing slippage on wet surfaces. There are several different styles, including:
Chairs with backrests, designed for those who need back support while showering
Chairs with arm support, which give a place to grip and hold while sitting and standing
Chairs with wheels for those with special mobility needs, though these can be more dangerous on wet surfaces
Chairs without backrests or arms, which allows for easy repositioning and is best for those who prefer a full range of motion
Your doctor can help you determine which type of shower chair may work best for your needs.
Shower chairs dont have to be expensive, but the cost can vary depending on the model. Some cost as low as $20, while others can range up to $300 or more.
What Is Considered Durable Medical Equipment
Durable Medical Equipment, or DME, is a term used by Medicaid, Medicare, and other insurance companies and programs to define the equipment that patients require and that may be reused.
Unlike one-use bandages, this sort of equipment is medically required and can give the patient health and comfort benefits.
DME includes:
As you can see, these are all instances of items that a sick may require but a healthy person does not. In most circumstances, Medicaid will pay all or a portion of the cost of such equipment but, does this include a bathroom and the equipment required in one?
Lets find out!
Also Check: What Age Can I Qualify For Medicare
How Does A Shower Chair Work
A shower chair is a waterproof chair designed for someone to sit on while theyre in the shower. It helps them be safer and more independent with showering, says Brandy Archie, an occupational therapist and founding director of AccessAble Living in Kansas City, Missouri. These chairs are particularly helpful for people experiencing permanent or temporary mobility issues, as well as those who find movement painful.
Most shower chairs have rubberized, non-slip feet, and theyre designed for safety in wet conditions. Some have backrests to provide extra support. Many have armrests on each side, and those that dont are designed to be gripped on the sides.
Prosthetic And Orthotic Items
Orthopedic shoes only when theyre a necessary part of a leg braceArm, leg, back, and neck braces , as long as you go to a supplier thats enrolled in MedicareArtificial limbs and eyesBreast prostheses after a mastectomyOstomy bags and certain related suppliesUrological suppliesTherapeutic shoes or inserts for people with diabetes who have severe diabetic foot disease.
Cataract glasses Conventional glasses or contact lenses after surgery with insertion of an intraocular lensIntraocular lenses
Important: Only standard frames are covered. Medicare will only pay for contact lenses or eyeglasses provided by a supplier enrolled in Medicare, no matter who submits the claim .
Don't Miss: Does Medicare Cover Biologics For Ra
Does A Walk In Shower Add Value
In general, removing a tub and installing a well-appointed walk-in shower also increases the value of a home. Removing your only tub to install a walk-in shower can make your homes value take a hit because most prospective homebuyers, especially families with small kids, want at least one bathtub.
What Is A Shower Chair
A shower chair is a movable or permanently installed seat for the tub or shower. It usually has a plastic seat with aluminum legs and non-slip, rubber feet, so itâs easy to clean and safe to place in water. Some are basic chairs, some are electric with hoisting abilities, and some, like a tub transfer bench, help you get in and out of the tub safely.
Shower chairs make bathing easier and safer. You might commonly use a shower chair as you get older, but chairs are also helpful if you are recovering from an injury or you have trouble getting around because of an illness, disease, or disability. Chairs and tub benches are often used in nursing homes and hospitals, but you can use one in your home shower or tub, too.
Recommended Reading: Will Medicare Pay For My Nebulizer
What Is The Process For Purchasing Items Of Durable Medical Equipment On Medicaid And State Funded Programs And Waivers
The first step is to get the doctor, or therapist, to write a medical justification letter which states that the items in question are medically necessary.
The next step is to contact a DME Medicaid-approved supplier, and to furnish them with the medical justification letter.
The DME supplier then has to fill out a Prior Approval application.
Next, the Prior Approval document goes to the Medicaid state office where it will be either approved, or denied.
If the application is denied, you will be notified as to the reasons why, and if you wish to, how to appeal the decision.
If a purchase is approved, the beneficiary will receive their item with nothing to pay.
What Are Shower Chairs
Does Medicare cover Power Wheelchairs & Mobility Scooters??
Shower chairs may also be called:
All models should be waterproof and will likely be made from plastic or metal. They should either give you the option to anchor them to the wall or have non-slip materials on the bottom to prevent them from slipping on wet surfaces.
TIP: Get ready to test your knowledge when you take our Medicare quiz.
You May Like: Is Kaiser A Good Medicare Advantage Plan
Wrapping Medicaid And Shower Chairs
Heres a quick recap of everything we have covered about buying shower chairs with Medicaid.
The first thing you need to know is that Medicaid does not often cover the cost of a shower chair. Medicaid views these devices as not always medically necessary which means they do not cover them.
However, Medicaid can cover shower chairs in rare circumstances. These include individuals who have severe mobility issues and other conditions that make them medically necessary. Your doctor can help you determine if you can get a medically prescribed shower chair.
If Medicaid doesn't cover your shower chair, you should consider shopping around resale shops like Goodwill or local online markets like Craigslist. You can also pick up a free shower chair from your local Medical Equipment Bank if they happen to have any in stock.
Related articles…
The Spend Down Program
Spend Down programs are designed to help a participant reduce their income, or income + asset level, so that they can become eligible for Medicaid.
To find out more about Spend Down you can read an article in which I explain who can qualify for Spend Down, the expenses that can be deducted and how to know if you qualify What is Spend Down ?
Dont Miss: How Much Is Premium For Medicare
You May Like: What Is Medicare Payer Id Number
If You Dont Buy From A Participating Supplier What Happens
Buying DME from a supplier who is Medicare-enrolled, but not a Participating Supplier, means your supplier accepts payment from Medicare, but isnt obliged to accept assignment.
The outcome, for you, is that the supplier is allowed to charge up to 15% on top of the Medicare-approved price for the item.
Medicare will then pay the supplier 80% of the Medicare-approved price of the item, and the supplier will be asking you, to pay the difference between the Medicare-approved price, and their price for the item.
This payment is on top of paying the Medicare co-pay of 20% of the Medicare-approved price, and if you havent met it yet, your annul deductible.
Some states have legislation limiting the amount a supplier can add on to the price, such as New York State, where a supplier may only add on 5%.
Free Assistance With Understanding Medicare
SHIP State Health Insurance Assistance Programs
You can free help and guidance for Medicare, Medicaid and Medigap from your state program.
I have a short article explaining how to find your local SHIP, and you can find that here Free Help Understanding Medicare And Medicaid ? Heres Where You Get It.
Don't Miss: Does Medicare Supplement Cover Drugs
Do Medicare Advantage Plans Cover Bath Chairs
If you have a Medicare Advantage plan you will have to check with your provider to see what extras are covered by their policy.
Medicare Advantage plan holders are legally entitled to the same DMEs as Original Medicare, but often have extra benefits such as hearing and visual under their plan.
In 2019 the Centers for Medicare & Medicaid released plans to increase the coverage of Medicare Advantage and Part D
Beginning in 2019, Medicare Advantage plans can now offer supplemental benefits that are not covered under Medicare Parts A or B, if they diagnose, compensate for physical impairments, diminish the impact of injuries or health conditions, and/or reduce avoidable emergency room utilization.
The source for this text is CMS finalizes Medicare Advantage and Part D payment and policy updates to maximize competition and coverage April 1, 2019. You can read the whole release on the CMS.gov website here.
Medicare Advantage were allowed to broaden coverage of equipment for individuals with chronic health conditions, and some Advantage plans may be offering coverage for certain types of bathroom equipment such as grab bars, safety frames, raised toilet seats, or even modifications.
So, take a good look at the different plans out there, as you may find one with the bathroom equipment you are looking for.
What Happens Once You Have The Prescription
If Medicare agrees to cover the equipment, you still need to meet your annual deductible and their co-payment of 20% of the Medicare-approved price of the equipment. Medicare Part B pays the remaining 80% of the Medicare-approved price.
Medicare will either buy, or rent, the equipment for you.
For cheaper items Medicare will normally purchase these, but in case of much more expensive items such as hospital beds, Medicare will rent the equipment on a monthly basis.
In the case of a rental by Medicare from a Medicare-approved supplier who accepts assignment, you will need to pay a monthly co-payment of 20% of the Medicare-approved rental price, and Medicare will pay 80% of the monthly rental.
You will also have to meet their annual deductible if they havent done so yet.
Don't Miss: Is Medicare Part D Deducted From Social Security